Looking for high quality icons for your web graphics? Here's a list of 60+ free icons download sites to find best icons for all your graphic design projects. Don't forget to check the attribution license. Some sites may require attribution or a link back in exchange for using their graphic assets.
1- Entypo

Free for commercial use, attribution to the creator is required.

2- Mini Icons

Free for commercial use, attribution to the creator is required.

646 vector icons in AI, EPS, SVG, PNG and Iconjar. Infinity icons are made using juicy gradients. The set contains a minimum of thin lines, so it can be used on a variety of backgrounds. These icons are designed on a 48×48 sized pixel perfect grid to guarantee consistency and crisp look. All files are well structured and organized for better. Get free icons to use. Over 10,000+ free icons to choose from. Try using the free icons today for any purpose. Its simple, just choose the icons you want and then download the icons.
3- MonoIcons

Free for commercial use, attribution to the creator is required.

4- Fontello

Icon fonts generator.

5- FlatIcon

Search engine of more than 389,000 free icons in the world.

6- Material Design Icons

750 free open – source glyphs by Google.

7- Foundation Icons

A custom collection of 283 icons that are stored in a handy web font.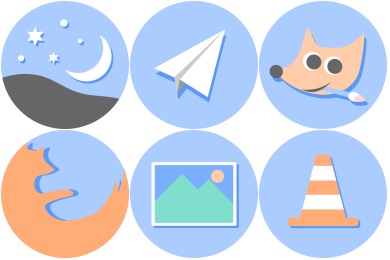 8- Ionicons

The premium icon font for Ionic Framework. 100% free and open source.

9- Octicons

GitHub's icons for your projects.

10- Endless Icons

Free flat icons and creative stuff.

11- Iconfinder

102,757 free icons.

12- Icon Sweets

Yummygum designed 60 free vector Photoshop icons. Suitable for iPhone and iPad apps or your new web project.

13- Apply Pixels

Common Emojis recreated in vector. Easily edit and scale every aspect of your favourite emojis and use them in your designs.

14- To(icon)

Free icons. All icons are licensed under a Creative Commons Attribution 4.0.

15- Evil Icons

Simple SVG icon pack with the code to support Rails, Sprockets, Node.js, Gulp, Grunt and CDN.

16- Jam Icons

422 handcrafted and pixel perfect icons.

17- Graphic Pear

Premium and free collection of high quality vector icons for ui and editorial design projects. Perfect for web, app, print and other design purposes.

18- Dribbble

A large collection of free icons from designers.

19- Picons

Most popular social media icons download free.

20- Iconmonstr

Discover 3847+ free simple icons in 263 collections.

21- Creative Tail

Crafted creative and design resources by the best designers around the globe.

22- Dafont

Along with fonts, over 50 icon fonts that are easy to download and use.

23- Oxygenna

Unique icons sets in PNG, PSD, and AI formats.

24- Streamline

Download 100 free IOS icons.

25- Free Downloads

Search for the best and most attractive free graphics for designers.

26- Squid Ink

Handcrafted, consistent and pixel perfect icons ready to use. Download 100 gesture and fingerprints icons in PSD / AI / EPS / PNG / SVG format.

27- GraphicsFuel

Offers free and premium design resources, and inspiration to help creating awesome design stuff.

28- Themify Icons

Complete set of icons for use in web design and apps. Consisting of 320+ pixel perfect, hand – crafted icons that draw inspiration from Apple iOS 7.

29- Vecteezy

Explore thousands of free graphics created by vector artists. Fresh designs that can be used to create your commercial or personal graphic design projects.

30- GraphicBurger

Tasty design resources made with care for each pixel. Free for both personal and commercial use.

31- Captain Icon

350+ Awesome free vector icons to empower your mobile and web designs.

32- Best PSD Freebies

Brings you the best free PSDs that you won't find anywhere else.

33- Smashing Magazine

Freebies and more for web designers and developers.

34- Iconjam

Share their high quality licensed sweetest stock and free icons for everyone to use.

35- FreebiesMall

Provide top quality free design resources and news for designers.

36- Webdesigner Depot

Web design resources for web designers.

37- Codrops

Web design and development blog that publishes articles and tutorials.

38- Flat Icons

A nicely sized set of forty different flat icons for your designs.

39- Speckyboy

Online magazine for designers sharing helpful resources, exploring new techniques and sharing useful tips.

40- Graphic Google

Designers are allowed to use free graphics in a personal and commercial way. Share them on your website but link back is compulsory.

41- PSDfreebies

Free and premium photoshop resources and freebies for designers. Free for both personal and commercial use.

42- Someicons

Line or Stroke icons for Designers and Developers.

43- Maxbuttons

Free icons listed are not limited so you can use in any of your projects. Most of the icons come in multiple formats like PNG, PSD, SVG etc.

44- Super Dev Resources (SDR)

Freebies which are both developed in – house or are offered by their partners.

45- Dribbble Graphics

Very professional website for all designers. Free pattern and icon set to use personally and commercially. Give direct download back – link to website.

46- Thislooksgreat

Hosts fantastic design resources, especially PSD freebies.

47- Pixeden

Web icon sets to download for your web design project. Each premium and free icon set comes in PNG format from 16×16 to 512×512. Depending on the icon set with its fully layered adobe photoshop psd in vector shape.

48- Anpsthemes

Download all the free files, over 18011 users world wide.

49- Dryicons

Over 5000 high quality web and vector icons in 77 Icon Sets. More than 1700 vector graphics for designers and developers.

50- Free Icon

Huge collection of graphic resource for designers.

51- Dreamstale

Free and premium graphic files for websites.

52- Graphic Delivery

50 pixel perfect icons made on a 40x40px grid with a 2 px stroke. Designed for mobile devices and web. The set comes in PSD and AI versions. Free for commercial use.

53- Designtory

Designtory is a project made by Interactive Designer Ionut Bondoc.

54-Behance

Showcase and discover the latest work from top online portfolios by creative professionals across industries.

55- EpicPxls

A great place to discover free resources for your next project.

56- Nucleo App

Free test pack includes 60 icons. All icons are available as single SVG files and icon font.

57- Iconshock

Wide selection of icons in different styles, sizes, formats and themes. From iOS Line icon set to a Food Themed icons.

58- DeviantArt

World's largest online social community for artists and art enthusiasts. Allowing people to connect through the creation and sharing of art.

59- Webalys

Webalys exclusively designing the best icons packs for designers, developers and startups.

60- VectorStock

Royalty free vector images, graphics, clipart, illustrations and high resolution stock images. Find the vectors you want.

61- 15 Free Icons
High Quality Icons Free Download

15 Useful photo app related icons.

Quality Symbols Icons
Definitely bookmark this resource, because its hard to memorize all this websites. Double check the terms of usage with each download because terms can change at any time. Please feel to share your experiences on using these sites. More sites to add to the list, comment below if any!